Note: This story appears in the Sunday, June 9 newspaper on Page A1.
A little less than two years of after-school artistry culminated in the opening of PRISM LGBTQ+ Youth Art Program's exhibit on Thursday at ARTS/West in Athens.
The exhibit was one of the first events to kick off Athens Pride Fest this year, which spans the month of June. The gallery features artwork from students between 12-18 years old around the region who participate in the after-school program for LGBTQ+ students and allies of the community. The exhibit will be on display in ARTS/West's lower gallery through June 27.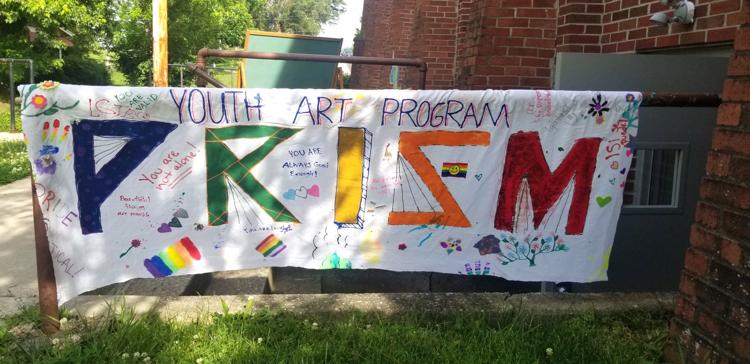 A wide range of artwork was on display including acrylic paintings, large unicorn 2D sculptures and letterpress projects. Students experimented with different mediums throughout the school year, such as painting on wheat waste paper. Also displayed were resources available to the LGBTQ+ community through PRISM and other organizations.
Lacey Rogers co-founded the nonprofit in 2017 and now serves as a program organizer. The exhibit is an opportunity for the youth artists to show what they've created both at PRISM and elsewhere, Rogers said, by highlighting students' interests and their artistic talents.
Rogers called the art show a "great way" to start the month of Athens Pride Fest.
The lower gallery in the basement of ARTS/West was packed Thursday with the students, their families and community members. Visitors were able to view the projects, learn more about PRISM and participate in activities such as creating "genderbread" cookies.
Rogers said the program features more than a dozen students from a variety of schools in the area, with a regular after-school attendance of nine or 10.
"There are people who might experience social anxiety or maybe not necessarily have opportunities to socialize, so this is also an outlet for that too," Rogers said. "Anytime you can bring the arts into things, it's an opportunity for creativity to come out too."
Hollie Royall, whose daughter Baylee Phillips is one of the featured student artists, was very pleased with the show and what the program has been able to provide to her daughter.
"It's open to all kinds of people and it's given (Baylee) all kinds of experience that she wouldn't have," Royall said. "Kids need that and it's definitely needed in this area for sure."
Most of the artwork is also being sold for prices ranging from $15-$40, with proceeds going directly to each student artist. PRISM is also accepting donations to help fund its programs.
This art exhibit also served as a way for PRISM to promote its new cooking program that occurs over summer break.
This takes place weekly at United Campus Ministry at 18 N. College St.
Royall said the cooking program has helped her daughter expand her palate when it comes to trying different fruits and vegetables.
PRISM organizers are planning for the upcoming summer and fall programs and hope to continue expanding the group.
Loran Marsan, another organizer for PRISM, said students attending the cooking program can learn fermenting, international cooking and vegan recipes. An eventual field trip is also in the works, Marsan said.
She said they have plans for the fall art program schedule to include projects like terrariums, spray painting, mask painting, book binding, corn husk dolls, marbling and resin mold jewelry.
More details about the PRISM after-school program and its summer cooking classes are available on the ARTS/West website.
The Athens Pride Fest parade and rally was held Saturday in Athens. A free Rainbow Alliance Picnic and Swim is planned for the Athens Community Pool on Sunday from 1-6 p.m.
Pride concludes with Drag Queen Story Time at the Athens Public Library on Saturday, June 29 from 2-5 p.m.