By the time the city of Athens woke up on Sunday, Nov. 15, 2014, most of the damage had already been done.
Union Street had suffered the most destructive fire Athens had seen in generations.
The damage was severe — five buildings near-destroyed. Numerous people were injured, including apartment tenants and responders. Dozens of residents were displaced and lost all their belongings. Several businesses were ruined, with many jobs affected.
From the first moments after the fire was reported, this saga became a story of heroism, hope and community. First responders saved many lives that evening and OU provided shelter to those displaced. Supporters here and beyond donated massive sums of money to help those who lost their livelihoods. The block was eventually rebuilt and the businesses eventually reopened.
This is the inspiring story of the Union Street fire, told through interviews with witnesses, tenants, emergency personnel, city/university officials and property owners. Part 1, seen here, appears in the Sunday, Nov. 17 newspaper on Page A1.
4:06 a.m. — First 911 call is made
Rob Rymer, Athens Fire Chief: "It was a Sunday. I was off-duty. I was at home. We got the all-call. Anytime we have a report of a possible fire, we call in all Athens firefighters. When it gets to be something of this magnitude, we're calling in other fire departments. This was the one. The one we've been talking about for years."
Art Oestrike, owner of Jackie O's: "I got a phone call at 4, 5 in the morning … the phone rang three times in a row and my wife said, 'Hey, wake up, something's going on.' Jason from Fluff was calling and he was like, 'Man, there's a fire, and I think it's on your block.'"
Cecily Sexton, Apartment Tenant: "My birthday was the 15th and it happened at 4 a.m. the next day, so I pretty much remember this every year. I remember my friend telling me to get out and that there was a fire, and me telling him he was dumb and there was no way that was happening. And then we started smelling smoke."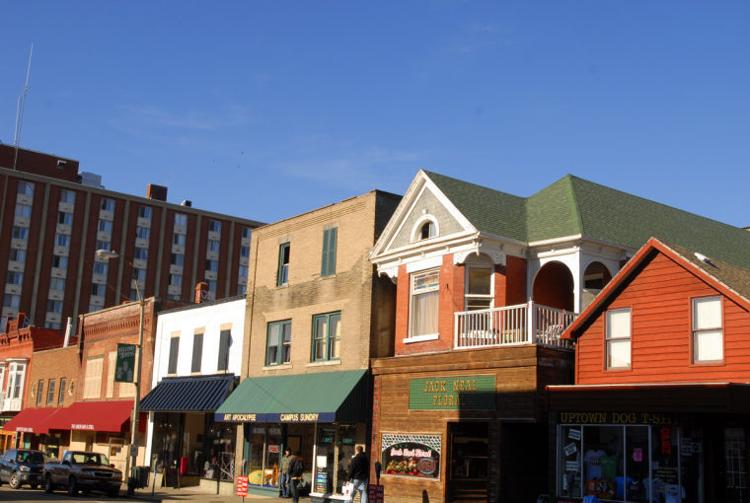 Anthony Fish, APD Lieutenant: "I don't remember where I was. We were working and were there quickly. We may have been here at the office or we may have been at the Union Street Diner."
Chief Rymer: "The call initially came in on Court Street where somebody was walking down the alley next to the Chipotle and they saw underneath the door ... In the rear where the call came in, smoke was coming from under a door behind the dress shop."
Lt. Fish: We started in that alley, got in the apartments and got them out, but we didn't realize that the fire was actually in the back of a West Union Street building, so we started our evacuation on Court Street and worked our way around."
Chief Rymer: "I live about 15 miles outside of town and the roads weren't the greatest, the bridges were ice … When you don't hear the radio traffic that is when the worrying starts because you know they're busy. They don't have time to talk on the radio. Coming from the highway and seeing that thing … oh lord, wow."
Oestrike: "I basically jumped out of bed and said, 'I gotta go see what's going on.' A fire is encroaching your business, it's a very scary moment. I had to get up there and see what was going on."
Sexton: "Our next move was to go downstairs and get the girls out who lived in the same building as us, so we started pounding on their door to get them out. "
Lt. Fish: "I remember that first building where we thought the students were. We went in, we went upstairs, kicked a door in, and there was a kid laying in bed five feet inside that door. I do remember the fire alarms and thinking, 'How did he sleep through this? Is he even alive?'"
Peter Couladis, building owner: "This was on a Saturday night and a lot of students were out partying and were probably half-asleep when it started. (Firefighters) may have had trouble waking them up. Someone's pounding on your door at 4 in the morning saying, 'Your building's on fire, put your clothes out and get out of here.'"
Lt. Fish: "I remember physically grabbing him and picking him up. I tried to shake him and tell him, 'Hey your building is on fire, wake up!' I picked him up, and held him to my face and said, 'You need to get your ass out of the building, it's on fire!'"
Oestrike: "It's just a powerful thing. Those flames are just shooting out of those roofs. It makes you think how small you are. How ferocious those flames are, how powerful that is. You're standing right there, you can't do anything to help anyone."
Natasha Neal, Co-Owner of Jack Neal Floral: "My husband came and spent most of the day up here … When I called him to check in, I first wanted to see if it was real. There's still this part of you that thinks, maybe it's not us, maybe it hasn't gone that far. Maybe the picture looks worse than it really is. But when I called him and he was extremely silent on the other end of the line, I knew it was real."
Sexton: "We all got out. I don't think the thought of never going back in was on our minds. When we got outside, one of our friends was outside helping them put ladders up. The building next to us was where people were on the roof and so we were trying to help get them out."
Chief Rymer: "We had people trapped on the roof and at that time our ladder truck was out of service, it was in Columbus being repaired. We had to call in a volunteer department and Nelsonville Fire Department also and they brought their ladder trucks in which helped out tremendously."
Guy Phillips, Building Owner: "I was horrified. I was terrified that college students would be lost ... It wasn't the buildings, it was just the loss of life."
Chief Rymer: "Most of the students had gone out the window onto the roof of the actual building that was on fire because it hadn't jumped through the roof yet, and they climbed over to The Union and scurried off that way. One was unable to."
Lt. Fish: "We went over to the side of the building where the students were trapped and at that point five or six of the kids, all but one, were able to climb a fence over to the next roof and were able to get several roofs away. There was only one student left."
Chief Rymer: "He tried to get over with the rest of the other students onto The Union (bar), 18 West Union, and he couldn't climb up and over. He was stuck and he went back to the other side and the smoke was overtaking him, so he went back towards the window towards the wall."
Lt. Fish: "That young man was sitting on the roof between us and that fence. We leaned over to try and get him but we could not reach him. The height difference made it so we couldn't grab him."
Chief Rymer: "Lt. Fish, was yelling at our guys saying, 'Hey we need a ladder up here to get him off here!,' but we just didn't have a ladder big enough"
Lt. Fish: "I remember taking my baton out. It's 31 inches long. I hollered at that kid. Told him to come over to the wall and I put it down the wall and walked him to the front of the building so he could lean over the edge and get fresh air. This was to make sure he didn't die of smoke inhalation and give him a fighting chance to live until the fire truck got there."
Chief Rymer: "Fish was up there with his baton telling Phil to hold onto it. Phil was the student's name. He was just saying, 'Hold on and don't let go.' "
Lt. Fish: "I went back to the window that we came out from and there was no way we were getting through that. There was thick black smoke just billowing out of that. I didn't know how we were getting off that roof, we might jump or make him jump. We'd explain to him that breaking your legs on a three-story fall is better than dying on a roof that is on fire … And about that time that we had the escape plan, the ladder came around the corner and they got the kid off there."
5 a.m. — Last rescue made
Chief Rymer: "The fire just kept jumping from building to building. We heard bricks crumbling, a very scary moment. When you heard bricks collapse your first notion is, 'Where's everybody at?'"
Mark Snider, Building Owner: "The immediate concern and fear is, did everybody get out? The fire department and the folks on site said everyone got out and we didn't have to worry about loss of life or any major injuries. I was impressed then and I've been impressed since then with our local firefighters. They are quick to the fight, they are very professional, they know what they're doing."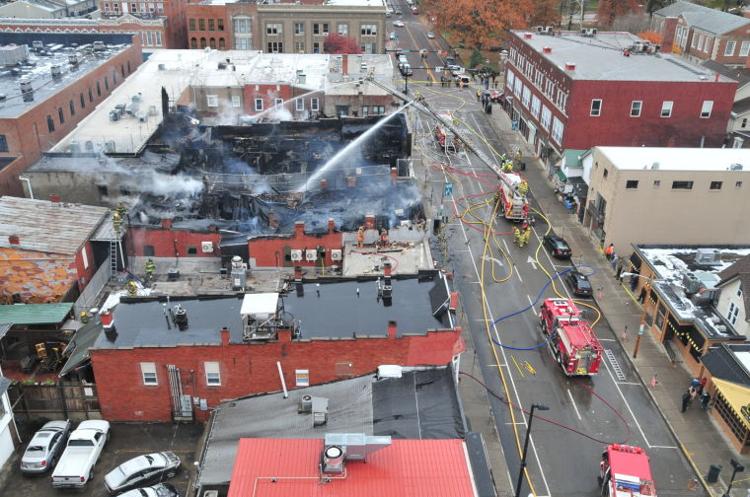 Phillips: "After I saw (all the residents) were accounted for, that was the biggest relief."
Lt. Fish: "All the guys at the fire department would tell you that we were stupid and that we shouldn't have done it, but every one of them would do it even if they didn't have their equipment because they are cut from the same cloth as we are. They would not hesitate to go in and help somebody if the opportunity rose."
Sexton: "We sat out there for awhile watching … My roommate was in a onesie and I was in shorts. It was the middle of November so those are the first things that come to mind, was how goofy we were and how unaware we were of what was happening."
Chief Rymer: "At 4 o'clock in the morning there weren't a whole bunch of people out there looking at it, except for the people that were out there in the street or the people that were waking up from the fire trucks."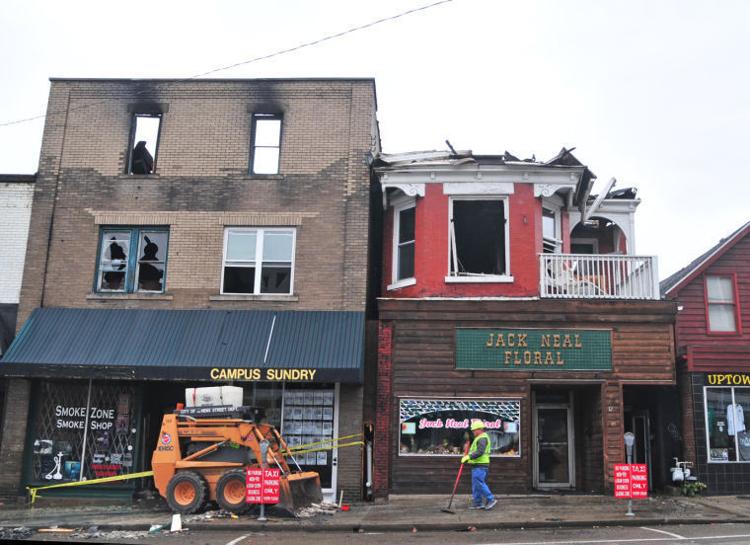 Oestrike: "As that fire is raging, jobs are getting cut. I'm the kind of person where I think big picture, and I just thought, 'what are we going to do?' Just, fear of the unknown and what's going to happen next is an awful feeling."
Athens Mayor Steve Patterson (then a Councilman): "At the time I did come up to West Union, not to gawk at what was going on, but to understand as a City Council member what was going on and also really hoping that our firefighters and students were safe as this was happening."
Snider: "I was probably up there around the time dawn was breaking, watching the firemen doing their thing. I remember seeing (then-Mayor Paul Wiehl), talking to him. Also talking to the Couladises, who had a building there. By the time I got there, there were already four buildings on fire."
Chief Rymer: "It was involving more of those buildings on Union Street but we had people staged on Court Street up on top of buildings and down off of Congress Street on buildings and porches over there trying to hit it from all angles."
Mayor Patterson: "I am so grateful as a Councilperson and now as a mayor that we have the relationships that we do with a lot of the other fire departments around us, to where we were able to have the tower truck from The Plains and Nelsonville come in to fight the fire from above."
Chief Rymer: "When downtown Columbus has a fire like this, they show up with more than 100 firefighters. They're calling them in from all over the place and they are a bunch of paid firefighters. Here, we weren't so lucky. We called in half the county and only ended up with 42. That's how many Columbus may show up with just a one-story house fire. We had five buildings on fire and that's all we had."
Lt. Fish: "Wendy's had opened their doors and had hot coffee and hot chocolate and I think at that point we sat there and warmed up. We were freezing because it was a cold November night. That's when it hit us just how bad it was and could've been."